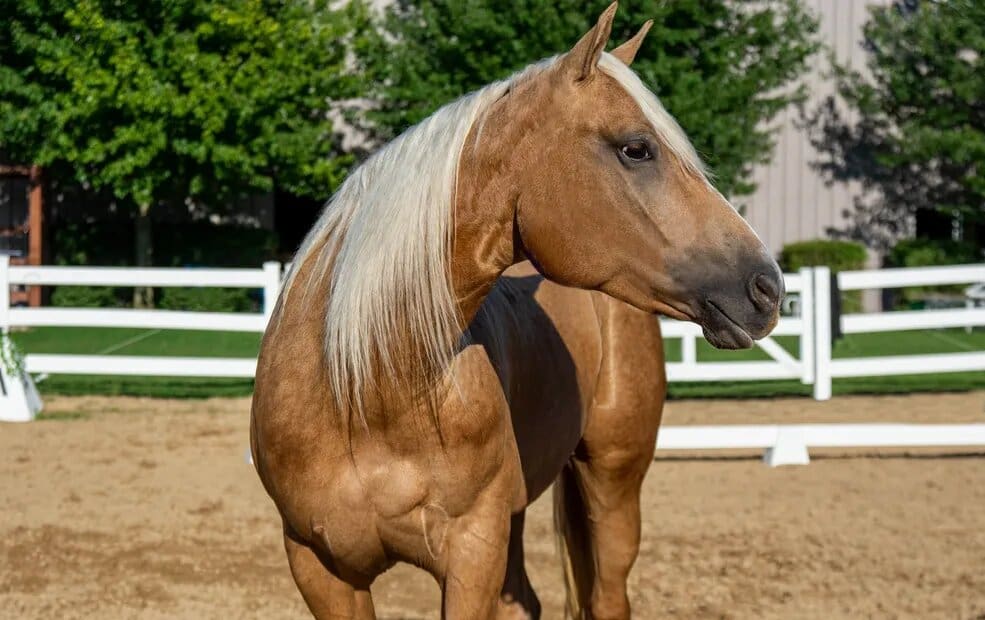 Lyric was an "orphan foal", a baby taken from her mother shortly after birth. Her mother was used as a urine donor for the inhumane production of estrogen replace hormones known as Premarin. The mares are kept in perpetual pregnancy for urine collection, once the foal is born it is placed on a "kill" truck heading for slaughter to Mexico or Canada. Lyric, a lovely little Palomino was spotted on a kill truck in Oklahoma by a rescue organization. The organization had to outbid the kill buyer and brought her to their farm to raise and rehabilitate.
As an orphan foal, Lyric never had the opportunity to learn from her mother. She was unruly, scared, unmannered, and quite frankly, dangerous. But she had a spark that the Palaske family could see when they were considering adopting her, which was fortunate for Lyric. The Palaskes knew they had their hands full so they looked for a barn that could help train Lyric to become the horse they knew she could be. The staff and trainers poured their efforts into teaching Lyric manners and respect for her humans but she remained skittish and unpredictable.
With our help, the Palaskes decided to try Brave Horse CBD Treats in hopes of helping Lyric calm down, focus on her training, and overcome her fears and trust issues. After a few weeks, we all began to see improvement in her progress, especially Paige, her trainer, who has nicknamed her "Mello Yello." Like every horse, she still has her moments, but she is making so much progress that the Palaske's daughter is now taking lessons on her every weekend!
Lyric, now five years old is a heartwarming success story and one of our Brave Horse Ambassadors. Lyric is well on her way to becoming the Palaske's dream horse – Calm, Brave, and Dependable.