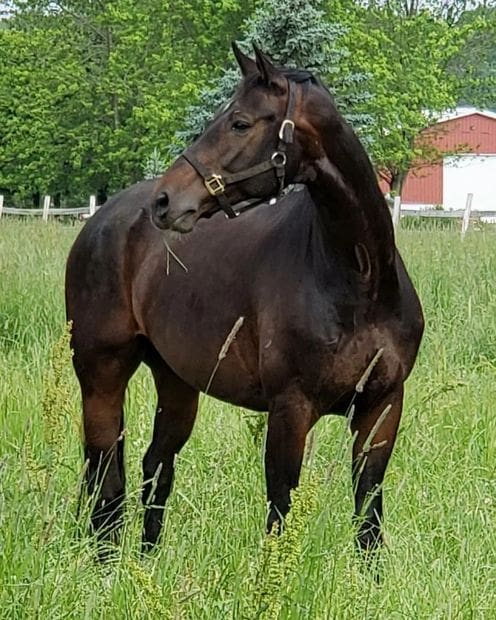 Our Story……Hello, my name is Rebecca and this is my boy, Kelso. Kelso is a fourteen-year-old Hanovarian gelding. Kelso is a seasoned Hunter Jumper, he spent most of his life showing all over the country. My niece, a competitive rider and professional braider sent him to live with me. Kelso and I quickly bonded, and I cannot imagine my life without him. When describing us I always say, "Professional horse and amateur rider". He truly takes care of me! Sometimes when I ask for the canter he shoots an ear back at me as if to say, "girl you're not ready yet"!
In 2019, we had an unfortunate experience with a farrier that resulted in a pretty nasty abscess in his right hind hoof. It was two months of medicine boots, salves, baby diapers, duct tape, lavender Epsom salt foot soaks, and A LOT of stall rest. One thing Kelso DOES NOT like is stall-rest! He also has a bad case of FOMO (fear of missing out). So, you can imagine this big 17.2 hand boy watching the barn being turned out every morning, not a pretty picture!
The barn staff suggested CBD to take the edge off the pacing and overall anxiety. I was eager to try everything to get Kelso back to tip-top shape and me back in the saddle. We used a CBD product that was created for humans, so we had to scale up the dosage and use the step-wise approach. Suffice it to say we went thru a lot of product. Within about 10 days we started to notice an improvement in his anxiety level. When I began to lunge him, he seemed to have better movement. Kelso is a big boy so when he has stiffness it's obvious.
As he progressed, I started noticing that not only was the CBD great for the anxiety it was amazing for his overall movement. As I said before Kelso is a retired, seasoned show horse so attitude and anxiety are not part of the picture when he is healthy. Stiffness, discomfort, and movement are his biggest issues and with a morning and evening dose of our Brave Horse CBD Treats, he feels great. Kelso is a happy Brave Horse Ambassador!